All online shops, which are partnered with PlatiOnline and that are based on the Magento, Prestashop, OpenCart, osCommerce or Woocommerce eCommerce platforms, can now integrate, free of charge, with  www.LivrariOnline.ro – the most complete Romanian online application / web management platform for deliveries and cash on delivery type payments.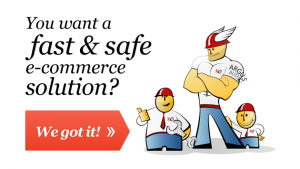 Developed by C Solution, www.LivrariOnline.ro is a "Software as a Service" web service that connects online stores with delivery service and postal service providers that are enrolled in the system.
More information about the www.LivrariOnline.ro service for online merchants can be found at http://wiki.livrarionline.ro/index.php?title=Interfata_comerciantilor
C Solution can provide on-demand custom integration with other eCommerce platforms.
This way, C Solution – with the LivrariOnline eCommerce service – meets all the demands of online store owners that want to monitor their online orders and delivery logistical operations, as well as collecting the amounts for the cash on delivery orders, all in a fast and efficient way.
Among the features offered by the www.LivrariOnline.ro interface for merchants, we can mention the following:
– it is configurable, in order to incorporate the shipping fees negotiated with the LivrariOnline shipping partners;
– automatically calculates shipping fees based on: weight and/or volume of package, sender and recipient location;
– allows for the automation of the shipping process, by automatically generating AWB labels and confirming the AWB tracking code to the LivrariOnline shipping partner;
– the online store can select whether delivery will be with or without COD (Cash On Delivery);
– the online shop can select legal status of recipient (individuals or companies);
– the customers will receive real time notifications ( SMS and email) from the courier with details of estimated time of arrival of the parcel, along with  AWB online tracking details.
Integration Kits ( API + Documentation) are available for download here:
http://www.magentocommerce.com/magento-connect/livrarionline-shipping.html
http://wiki.livrarionline.ro/images/e/e8/PrestaShop14x.zip
http://wiki.livrarionline.ro/images/f/f7/Opencart15x.zip